< eBooks />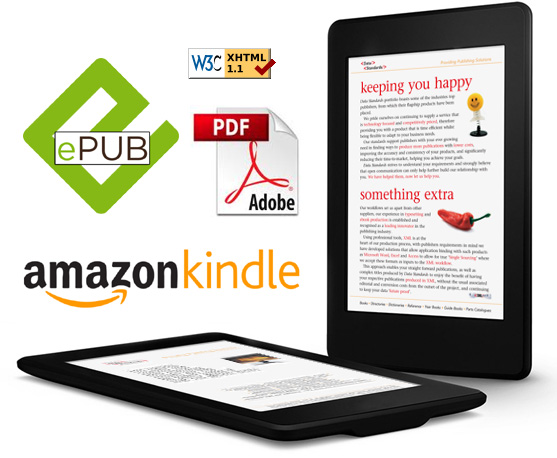 Data Standards is at the forefront of the ebook creation and conversion market, making publications available that were never thought possible as an ebook product.
The ebook market has now proven itself, and with that the requirement for professional ebook conversion services has also grown. Data Standards wealth of knowledge will support you grow your online presence.
Using our in-house data conversion technology combined with our unrivalled skill set, we produce many ebook formats like .ePub, .Mobi, .KF8 and .PDF.
As well as XML source files we also except most data formats, because we understand that complete backlist archives may not always be available.
Whether it's a series of simple text publications or your complex flagship product, we can help you.
Download our sample ebook in ePub format and Mobi (Kindle) format.
Download free ebook reading software
Adobe Digital Editions (ePub) and Kindle Reading App (Mobi).